The Prinses Beatrix Spierfonds and MYOS (the network for young scientists) have joined forces again. On Friday March 31st, we will organize Event4Talent 2023. Event4Talent is a one-day event with an optional overnight stay at hotel 't Paviljoen – Rhenen, with plenty of opportunities to network with your colleagues. All scientists from their fourth year PhD up to beginning group leaders are welcome.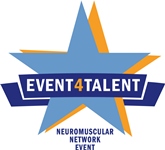 The second edition of Event4Talent will take place on Friday March 31st 2023 at Hotel 't Paviljoen in Rhenen. Up to 30 participants (fourth year PhD students up to beginning group leaders) can get together to collaborate and discuss and learn about this year's theme: Funding.
The program
This event will bring together neuromuscular researchers to network and discuss this year's theme: Funding. Experts from various backgrounds will share their experiences and The Online Scientists will help you turn complex ideas into exciting visuals that are easy to understand.
The program includes:
Interactive introduction to get to know each other.
Workshop infographics facilitated by The Online Scientists.
Panel session with experienced researchers about this year's theme: Funding.
A dinner and informal evening program, followed by an optional overnight stay.
Plenty of opportunities to get inspired by and network with others from the field.
How to register?
To participate in the one-day event 2023, fill out the online registration form here. The deadline to register is February 24 and is only possible within the registration deadlines.
Early bird (registration before January 23): € 60,- with overnight stay and € 30,- without.
Full price (registration after January 23): € 75,- with overnight stay and € 40,- without.
Register early for a discount on the registration fee and to make sure you have one of the 30 available spots!
Event4Talent is organized by researchers of MYOS and by the Prinses Beatrix Spierfonds. The committee members of the 2023 edition are:

Nadine van der Beek
Erasmus MC & MYOS

Eric Voorn
Amsterdam UMC & MYOS

Josine de Winter
Amsterdam UMC & MYOS

Simone van den Berge
Prinses Beatrix Spierfonds

Fleur Sevriens
Prinses Beatrix Spierfonds